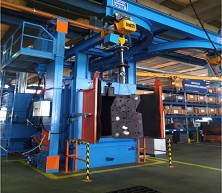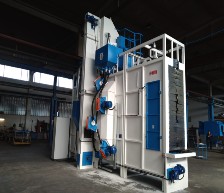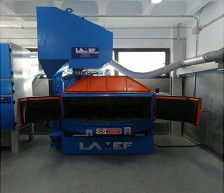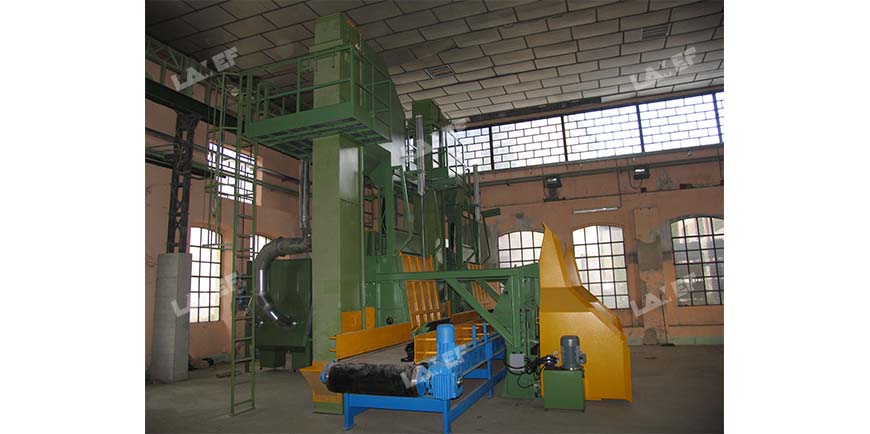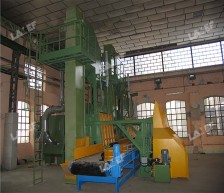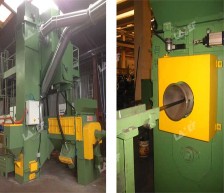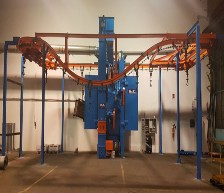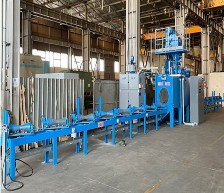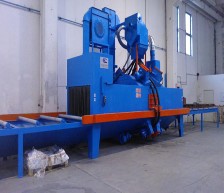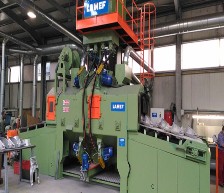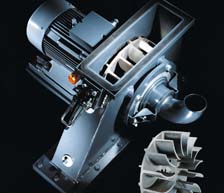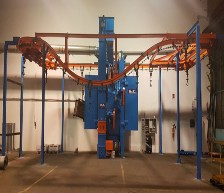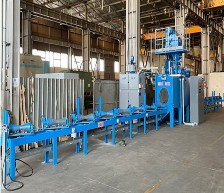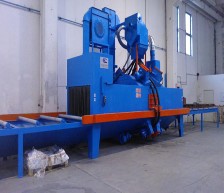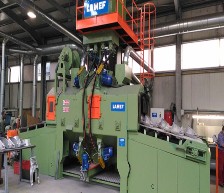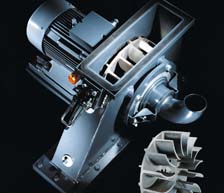 Hook shot blasting machine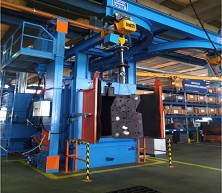 ---
These machine models are recommended for heavy, bulky, complex geometry parts and for sensitive parts that cannot be loaded in batches. The simultaneous movement of rotation and oscillation of the hooks, together with the propulsion of the shot by the different turbines, guarantee uniform shot blasting on each part. Several models are available depending on the height and useful diameter of the cabin. In addition to the monorail system, there are systems with open or closed Y, and loop system.
Continuous hook shot blasting machine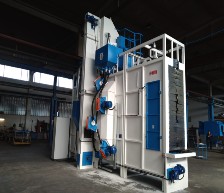 ---
This machine model is installed in companies that want to have a continuous working system, type shot blasting + painting. In this machine the hung pieces are moved, but do not rotate inside the working chamber, so that working turbines are arranged on both sides of the machine, and so the pieces are moved without interruptions, then placing the blowing cabin + painting cabin.
Plate blasting machine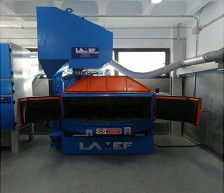 ---
This system is characterized by its multiple applications. Components with different sizes, shapes and geometries, as well as delicate components, can be easily processed. It is particularly suitable for the cleaning of injection molds and aluminum extrusion dies. Nowadays, there are few companies in the aluminum industry that do not have a round-plate shot blasting machine to clean the extrusion die before nitriding (it replaces, with great advantages, the wet blasting machine cleaning with glass beads and/or corundum). There are models, from 500 mm plate diameter up to 2.500 mm.
Batch shot blasting machine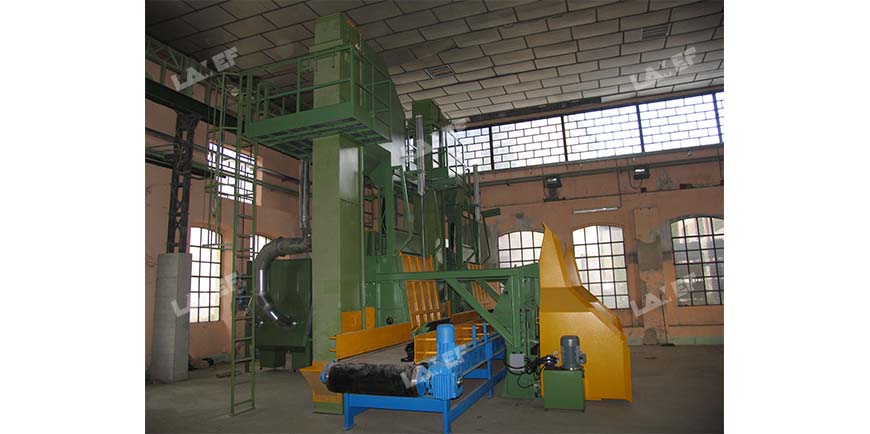 ---
Also called belt or tapestry. In this case the machine works in batches, but not continuously; the pieces are loaded (manually or automatically by means of a tilter), the programmed work cycle is produced, and the pieces are unloaded (also manually or automatically by means of an unloading sieve). Valid for all types of pieces of revolution and that do not have problems by hitting each other. There are different models, depending on the maximum load diameter. The turbine located in the upper part of the working chamber ensures an optimal shot blasting of the entire loaded batch; the same happens with the belt (rubber or metal), with ribs, which favors the tumbling of the pieces.
Batch shot blasting machine and automatic loader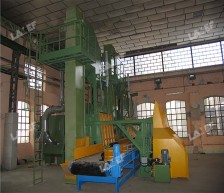 ---
In this shot blasting machine with automatic loader, we work in batches, but the production process is automated to the maximum: the container loaded with parts is placed in the loader, and its contents are automatically dumped into the blasting chamber; once the process is finished, the belt rotates in the opposite direction, to proceed to unload the parts onto a vibrating belt, which transfers them outside the installation, (sideways), to a container-warehouse set up for this purpose.
Shot blasting machine for wires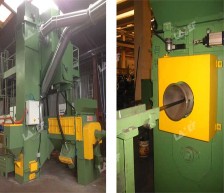 ---
Shot blasting machine for wire coils of any thickness, continuously and without interruptions
Carousel hook shot blasting machine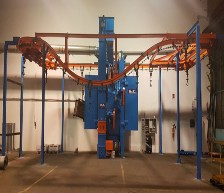 ---
Model of a hook shot blasting installation, in which we have a carousel for work as close to continuous as possible. In this machine, the parts are hung from the hook, enter the working chamber and are moved and rotated inside it; once the process is finished, the parts leave the cabin through the door opposite to the one they have entered. The advantage of this equipment is that it saves on the number of shot blasting turbines. The disadvantage is that it is not a 100% continuous operation.
Round tube shot blasting machine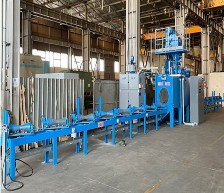 ---
Machine for shot blasting round tubes of different diameters. Can be integrated in manufacturing processes, before or after cutting and/or welding lines.
Tunnel shot blasting machine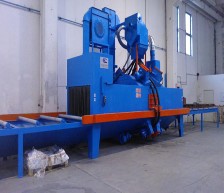 ---
Continuous shot blasting machines with roller conveyors are mainly used to treat structural beams and plates. The parts pass continuously through a pre-chamber (blowing or pre-heating, if we are going to paint later...); then the blasting cabin and the cleaning chamber and the parts are placed on top of motorized rollers; the highly efficient turbines are strategically placed in the blasting cabin, so that the parts are treated from all sides; the blasting machines are mainly used to remove rust and paint from long and/or thin parts. Continuous shot blasting machines with roller conveyors are mainly used to remove rust and paint from long and/or thin parts. We can integrate after the shot blasting machine, the painting+drying system, based on primer, or any other paint, preferably water-based.
Mesh belt shot blasting machine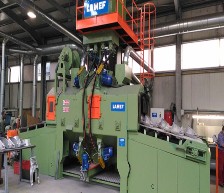 ---
Continuous shot blasting machine with high resistance metallic mesh. From 600 mm useful width, with 4 blasting turbines, two above and two below, and to work between 0.5 and 2 meters per minute, allows us a high performance. Essential for companies that want to treat pieces of various sizes with high quality shot blasting on both sides, in a single pass, and with high productivity. The metal mesh allows to work with pieces of very different sizes, (even small), pieces that do not have to be turned over and cannot collide with each other. Also possible with only turbines on top.
Shot blasting turbine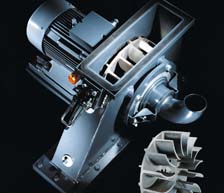 ---
Shot blast turbines of different power ratings, from 5.5 kW to 22 kW, with different turbine blade widths and the possibility of direct or belt drive. High efficiency, minimum energy consumption, maximum shot blasting and minimum wear.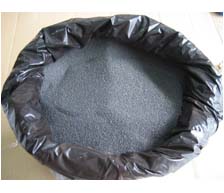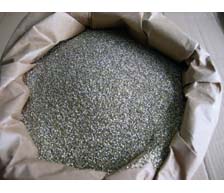 Steel shot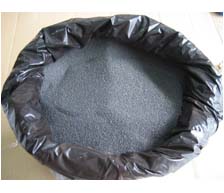 ---
Angular or spherical; made of carbon steel, stainless steel with high chrome and nickel content, or nickel-free stainless steel. We have all sizes, from 0.1 mm to 2 mm, in the official granulometries, and with high quality products. The shot is valid for pickling, deoxidizing, roughening, preparing surfaces for painting, removing paint, deburring steel and stainless steel, decorative finishes on aluminum, cleaning of injection molds and aluminum extrusion dies, etc.
Wire shot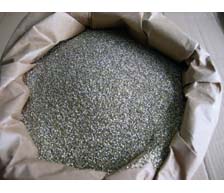 ---
A variety of shot that leaves a decorative finish appreciated by some customers. It has a lower hardness than carbon steel shot, but it extends the service life of the machines, because it produces less wear on the components.manufactured from the conical cut of high resistance wires over 170 kgs/mm.it wears in the form of flakes, so it does not leave any powder film, as it happens with carbon steel shot. High yields are achieved, from 0.4 mm to 2 mm.
List of shot blasting products
---
Download our list of products for blasting and/or shot blasting any type of surface, in any condition, either by blasting with turbine or by compressed air (venturi or pressure) (not all abrasives can be used with turbine).
---
Documentation
Download Information